I like this, I think the lighting is REALLY nice, she's practically glowing. The crop is a little off-kilter, but I think that adds to the character of the picture. She looks nice, not 100% my style but I can appreciate it and when my brother saw it he was just like "THIS IS MY FAVOURITE (usually he doesn't like my shots) HER FACE IS PERFECT" so I suppose I've got something that works for the target audience :P

There are a few things with the way this lens deals with colours and focus that irks me around her hair where the light's hitting it and the strap from her bikini.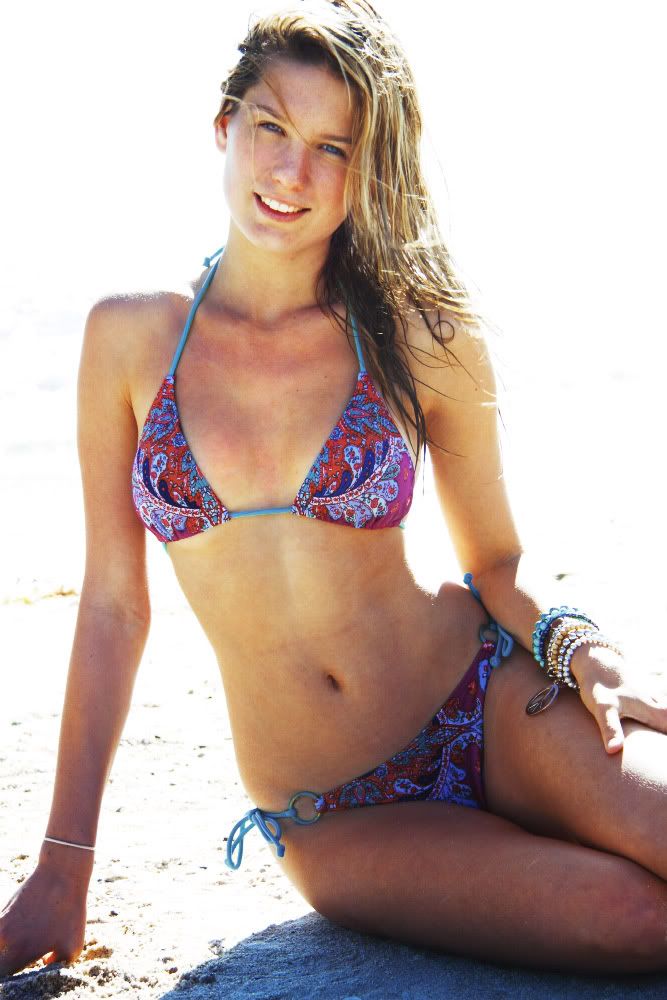 I think this is about even with the other picture. I feel the emotion here a bit more and her body looks amazing, but the lighting is SO wrong it really frustrates me and I'm almost afraid to show this as one of my photos. We really need to just bring a big soft-box in from the front and/or set up a big rig with a diffuser so the sunlight wasn't so harsh.

set thoughts

So basically I've used this model before, she's an up-and-comer, trying to get a career on track and all of that and she approached me wanting to have some shots taken for a 'be the next face of Roxy' challenge, which meant beach shots obviously. A headshot and a body shot. I accepted because the idea really appeals to me to be able to shoot anything, regardless of what my "style" is, sure I have a genre I want to specialise in but if someone approaches me asking for real estate shots, I want to also be able to take the best real estate shots they've ever seen!

I don't think I took the best beachy shots ever (god that sun was just ruining all lighting posibilities and then it was SO windy I could barely keep a reflector in place for more than a second), she looks fresh and beachy, but technically I learned a lot from doing this and I'm really keen to do this style again but better to prove that I can.

Although I guess one problem with this style is that I don't know this beachy girl character, I can't associate with her, it doesn't really have any emotional resonance with me and so I can't really relate to the pictures? So maybe I shouldn't be trying to master this style when I could be doing something that means more to me? Who knows... thoughts? comments?