I like the softness here and the composition with their heads together (IMAGINE THE CENTER-SEAM YOU GUYS). Their expressions make me feel like there's a story (lol which there isn't) and that they're both off in their own worlds.

As far as aesthetic things, I would have liked to have seen more colour and contrast in the background. I would have liked stronger, more arched eyebrows. I would have liked to have seen fuller lips from the girl on the right (Jourdan) and a bit more depth to her chin.

I love both of their eyes and their hair is a ridiculous mess.




Yeah not my favourite. I think this is another one of those "focus on the styling, even though there's nothing worth looking at" shots. Posing-wise, I would have liked to have seen more connection between them, it may as well be two solo shots photoshopped together.

I really like Jourdan's alert expression and casual pose and I wish that Brittany could have matched that. What's really interesting is that while shooting I felt like I was having problems with Jourdan and that Brittany's shots would easily come out the best.

And I like the colour in the background but I feel like in a studio shoot like this, in order to make it interesting there should be a LOT more.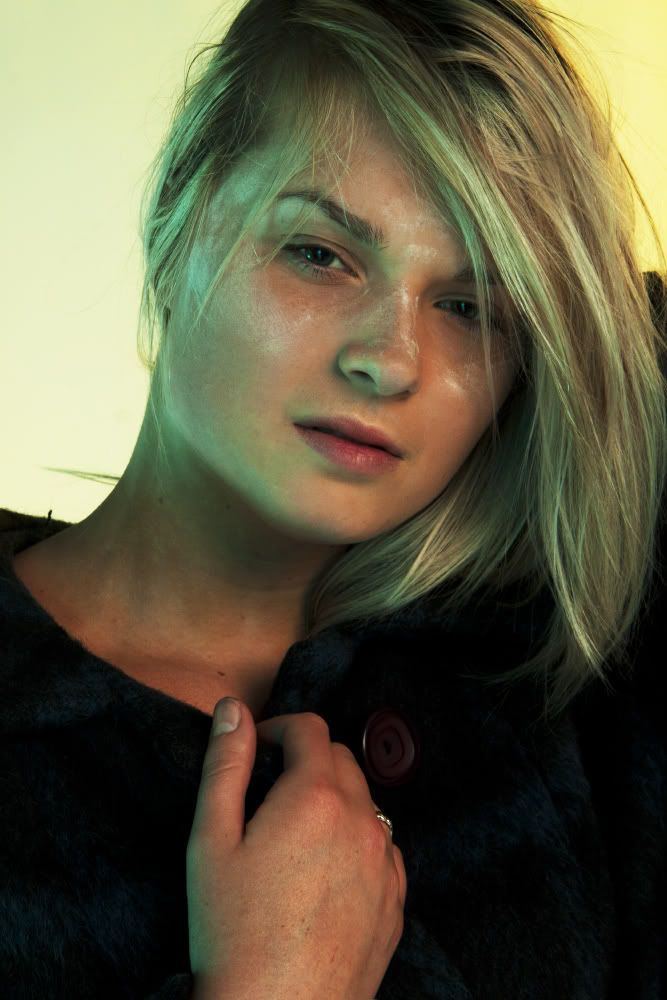 uuuuugh, I love the intensity here. It's just so casually powerful, which are not two things that often come hand-in-hand. The careless hair, the piercing gaze... I have so much fun looking at this shot. I just have a big problem with the contrast or lack thereof.




Definitely one of my favourites of the set. HERE'S the connection between the two I've been looking for!! And I love the windswept look to their hair (although I feel like it could be taken to an even further extreme)

The curve to Jourdan's back is beautiful and I love the tonality to her arm. It's the same kind of depth in Brittany's face and I don't know completely what it is but it's excellent. I'm not crazy about Jourdan's face, it doesn't look particularly natural and I think it could do with a bit of that depth, as could their feet (which also need a bit of cleaning :x)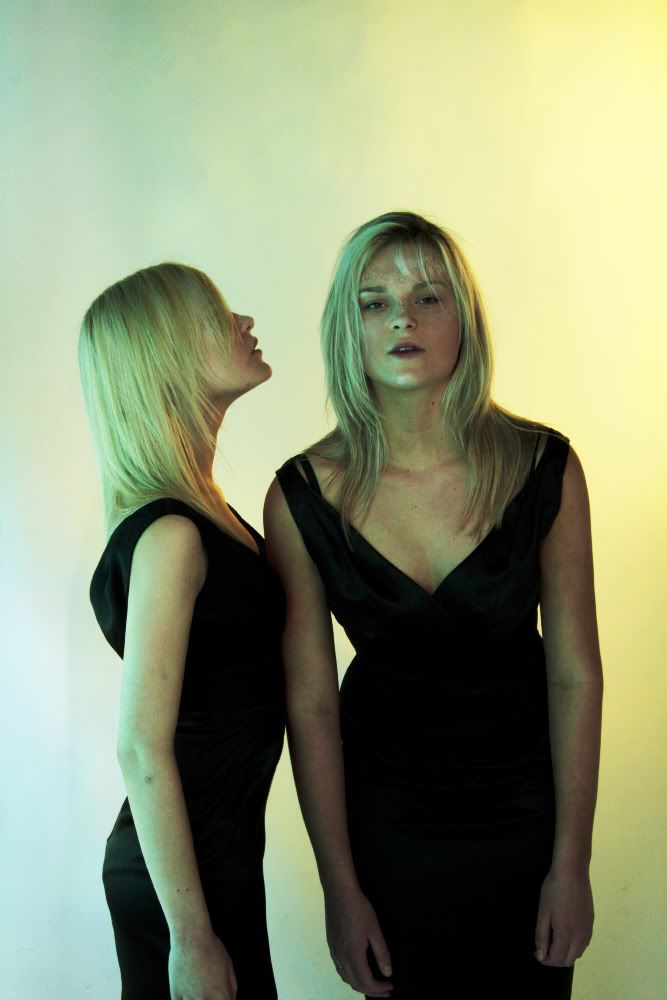 mmm yes, now this is what I'm all about. Again, Jourdan, just so effortless in her posing and looking soooo sexy. Goddamn those curves!! And that collarbone! And her FACE!

Brittany is giving me curves also but it just lacks a bit of swagger. If she'd exaggerated it a bit more and just relaxed down into it I think it would have helped. Also her hair needs a bit more of that windswept thing, it's just too straight and stringy. And her jaw is a bit sloppily retouched, I should know better than that...

but overall, YES, I love the shapes




I like this pose but I think what lets this shot down for me is her blank face (and her toenails! Why did I not notice this sooner!). If she's just rolled her head back and relaxed into it I think this shot would have been a killer!

And again, lighting-wise, I really could have done with a lot more contrast in the background, at the very least so that the clothes stood out a bit more.




I like this because it reminds me of a movie screencap. But in that same respect, it leaves me wishing that their expressions told more of a story like in the first shot. It's really interesting that we can see so little of Brittany but it comes across so clearly how disconnected she is.

I really like the colours in the lighting and the reflections it it makes in their hair, but I wish that there had been more light above them so that their hair wasn't reflecting black up the top. Once again, boring background, needs things, etc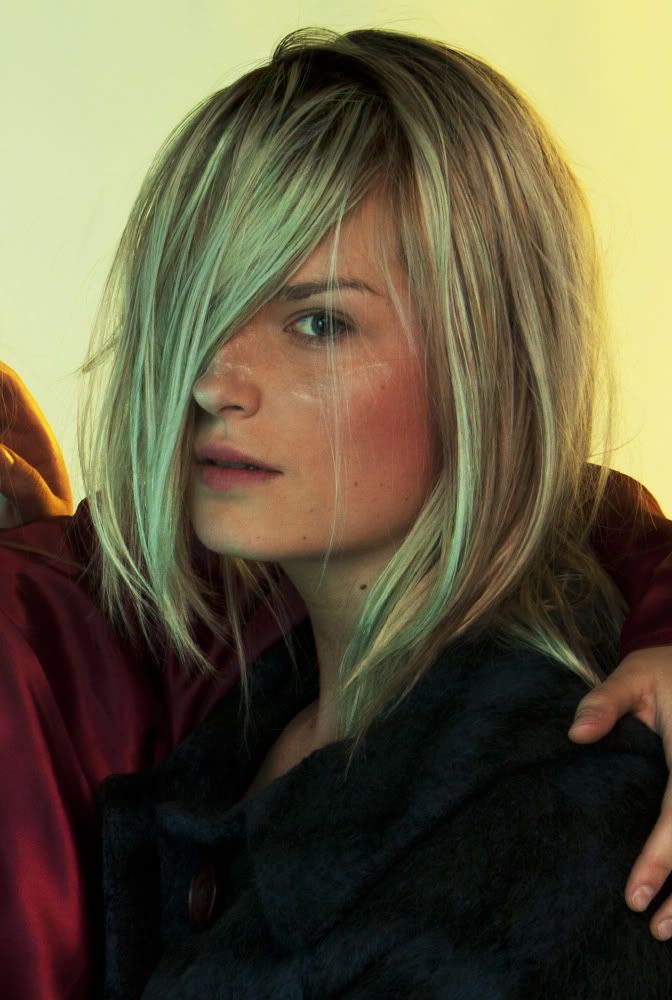 I just-- UGH. SO STUNNING! AND THAT STRAND OF HAIR! AND THE FRAMING CAUSED BY THE REST OF IT! AND HER NOSE. AND HER EYEBROW!

There are just too many things I like. My one fault is that the contrast is SO weak, I'm surprised that this was even retouched by me.

And before I move on to set-talk, I just want to say I love this colour of green in her hair and her connection with the camera!!

set thoughts

so while not every set in this shot may have been perfect, I'm actually very happy with this as a whole. There is a different look in almost every shot, there are different crops and poses throughout, the colouring is cohesive. It looks like a set!

The big weird thing for me, going through these is just how strong Jourdan's shots came out compared to Brittany. When I was shooting I was getting really frustrated with Brittany for not being invested in the concept and giving me attitude and not fitting a lot of the clothes, but somehow her shots ended up being amazing. Brittany on the other hand looked flawless on set and was constantly impressing me with her positive attitude and willingness to give every shot her all, turned up completely flat. Does anybody have any thoughts on this? My only reasoning could be that because I was so focused on improving Jourdan's half of the picture to bring it up to Brittany's level that I lost focus of Brittany and she slipped by unnoticed... it's very unsual but it's not the first time it's happened either, but this time it was really extreme.