I made to be a 'cover' image and I think it's outrageously successful. I love her eye-contact and the slightly unusual expression and hairstyle would make it stand out for me if it were amongst a crowd of covers. Once again hair in the face is proving to be a winning hair element.
Not only do I love her lips, eyebrows, hair and the background and how they make the picture really cohesive with their exact same shades of red but her blue eyes just shining through really seal the deal for me. And the fur jacket just completes the white/red colourscheme and makes everything look even more expensive
My only faults with this is that I could have done with a bit more depth in her irises and some of the redness in her hair is a bit patchy but other than that I'm so happy :D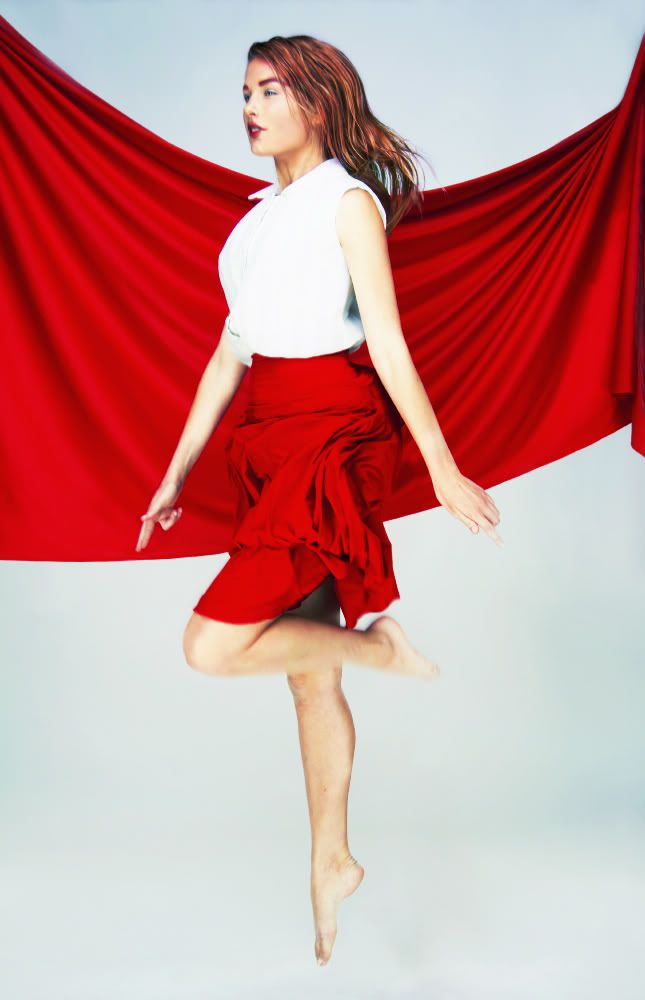 Again the colourscheme is really working for me, I love the fabric in the background it makes such a clean texture. And the background is so pure and clean, I'm really enjoying the consistency of it.
I'm not crazy about the blurryness, I think in a studio shoot like this it's a bit more important that everything is clean and crisp. And the jump also makes her expression and pose a little tense (her elbow bending backwards disturbs me to no end). But I do really like the way the clothes look in motion
Her legs and jaw are fantastic and I wish that I'd called in a professional hairstylist because I'm not a fan of it's texture.
Definitely my favourite of the set - I love the pose (LOOK AT HER FEET AND BE AMAZED), I love her hair, I love the clothes, I love her curious expression. The colouring and lighting and such is spot on... I don't think I would do anything differently if I were to shoot this again.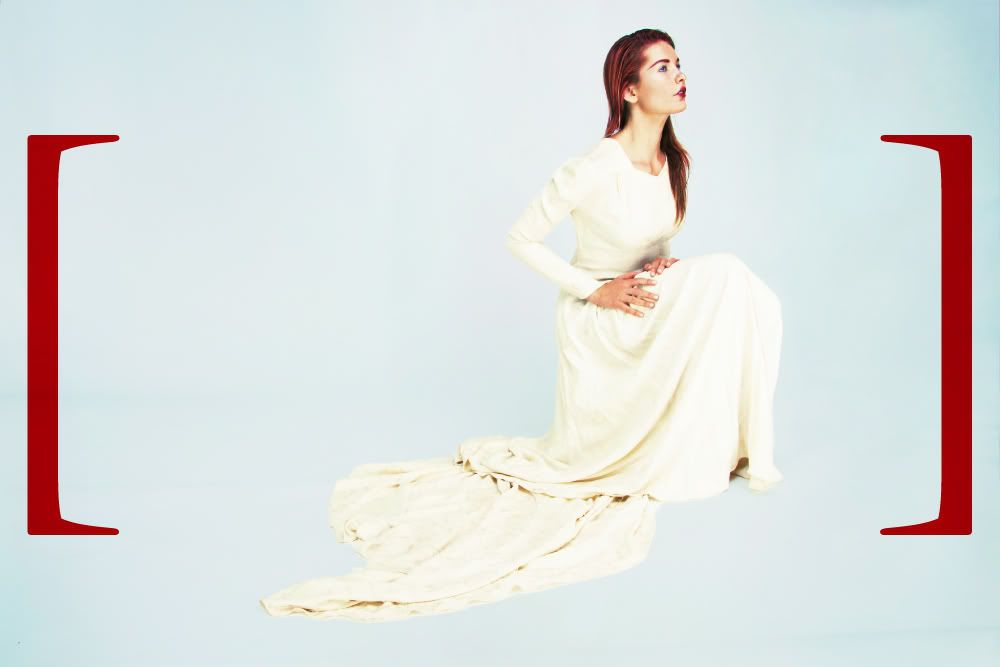 I'm not massively in love with the posing here... She's just sitting and there's not a lot more to it... her face looks fantastic though.
I really really like the square brackets and how they "close off" the picture and I want to get into using more overlaying digital elements (i.e. text, textures etc) in my pictures.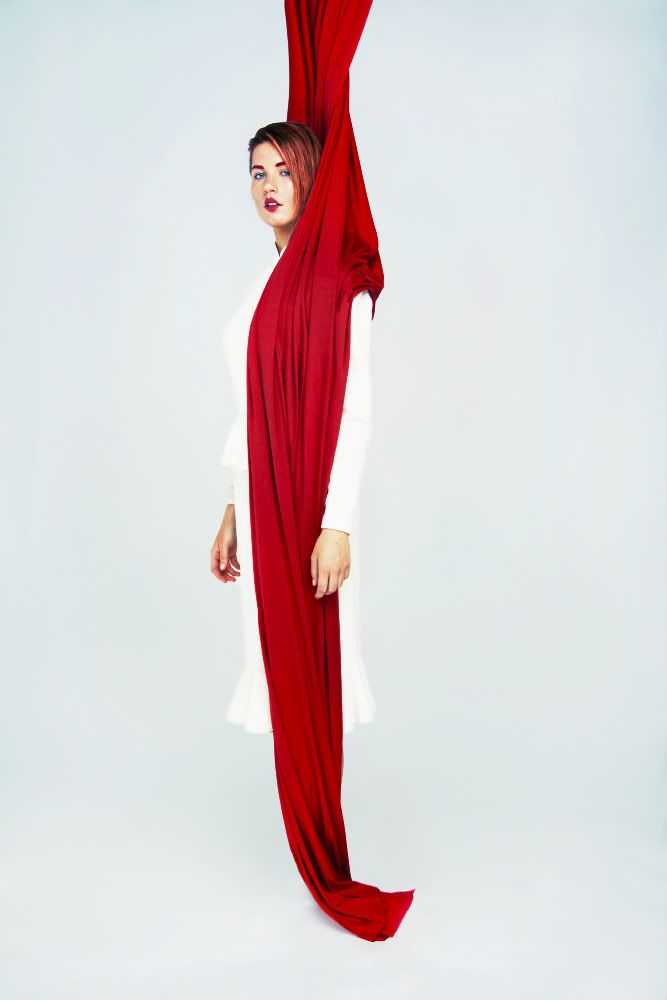 While the other one is my favourite, this is undoubtedly the star of the set. Every time people browse through my portfolio this shot always gets a mention. And I think the key here is the abstract shape made by this predominantly white photo with a line through it - it's simple but it's strong. And the subtle retouching of her feet adds a nice aftershock.
Also her face is SO strong! I had a really hard time getting her to look natural because the makeup pretty much just made her look like plastic so I had to insert flaws in my retouching which was unusual :P but I think I hit the nail on the head with this one.
The posing here reminds me quite a bit of
this
shot, which I'm okay with because I like that style and I'm okay with the idea of that being a bit of a signature. Also I think cropping where I did makes her look really long and tall!
I really love the quality to her skin overall, it's so smooth and a tad shiny but not too much and it's all in the right places! I do think that her face looks a tad awkward though, I can see a few kinks where the light just isn't falling in the most flattering ways.
got a little bit of a René Magritte thing going on here, which I like and have every intention of doing more of. And her body is just AMAZING, so well proportioned... I'm also really digging the colour variation around her feet.
My main fault is that the orb looks a little patchy
set things
so basically with this set I wanted to make something that saddles the line of commercial and editorial that you're likely to see in something like Vogue and I think this is exactly that! I'm really thrilled with how this turned out! Looking through this now, compared to a lot of my recent sets, there's no doubt in my mind that's it's one of my best. Sure there are some not particularly strong individual shots but the overall idea is really powerful and the shots are varied and work individually but cohesively are tied together by the overall concepts.
ALSO it should be noted that this is the first shoot in which I had borrowed clothes from a store and what a difference it makes! It seems infinitely more professional when each shot has different clothes!
and yes this is the same girl from the last shoot. I've said this so many times before but I just LOVE how the same person can be interpreted in so many different ways!
If I were shoot this all again the main thing I would have done is left a bit more time to shoot. Once again we spent a bit too long in makeup (only to get it still not looking exactly how I wanted) which meant that we didn't have enough time for every shot to be fully fleshed out. I also would have brought in a professional hairstylist because I've managed to fake it quite well but it would be ideal not to have to fake it :P