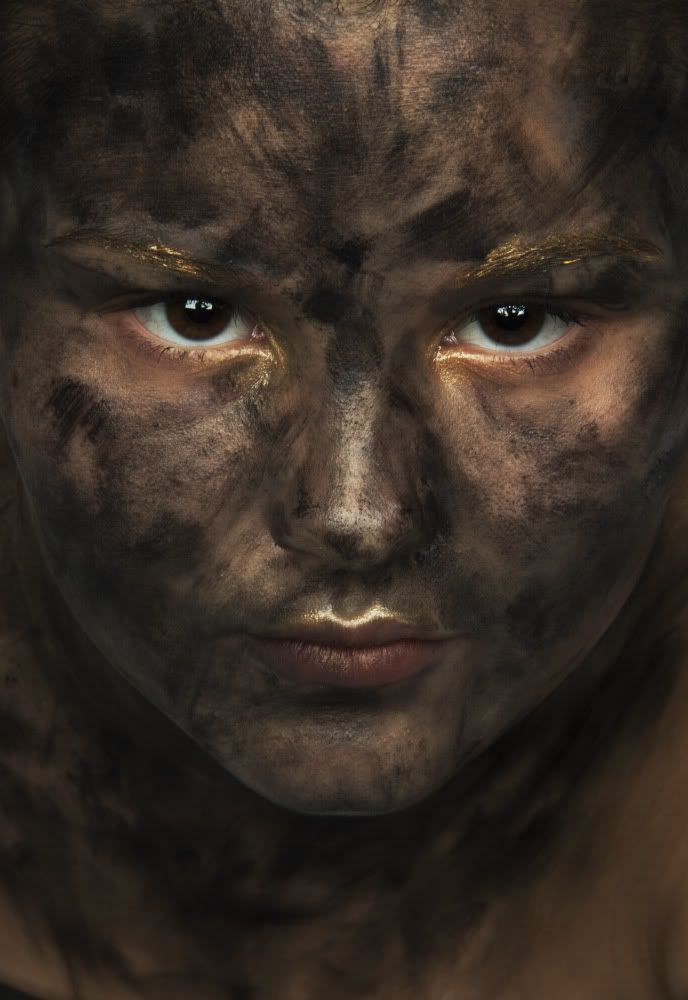 I'm not crazy about this, I think it could have done with a little more contrast in the dark areas. Her eyebrows could be a lot more defined. I'm not particularly in love with her eye shape

If I were to shoot this again, I probably would have focused more on getting some emotion out of her. And afterwards I probably should have put a bit more effort into refining her features in PS

I will say that as a thumbnail I think it works really well so the overall balance of light is on the right track!




I just love the expression here - so sly and intense! And the crop is just right! And the manipulated background doesn't look completely out of place. Obviously not as natural as if it were real but still very good I think and I really like the gradient to it! And the highlights on her face are in ALL of the right places

The big thing I wish were different is definitely that her shoulder isn't dirty like the rest of her, it's so obnoxious and distracting (it does have a nice tonality to it though...). And secondly I just wish her neck/jaw had a bit more definition




Again, I'm liking the background - that was such a beautiful sky. I'm liking the highlights and the shoulder tonality again, but I just wish I'd taken the retouching a step further because I LIKE her features I'm just not particularly excited by them.

I actually kind of appreciate the light shoulder in this one - it makes an interesting shape and if it were dark like her face I can see that it would have all just blended together.




I'm really appreciating the highlights here. Not only does she have a few gold highlights but her skin looks like beneath the dirt it's made of gold also! This is what I think the first should have been in terms of contrast.

You don't really notice it as much in the other shots but in this one I wish that the dirt smudges were a bit more definitive. It's all just kind of a wishywashy darkness but I'd like it if there was a bit more of a shape to it. I really like how definitive the dirt is making her jaw look though

set things

I'm just going to preface this by saying this set was a similar case to the last one. I didn't pick this model, the makeup doesn't look like what I intended it to, we only had a few minutes to actually shoot it... but this one came out better I think! And I think if any of those things had been different it wouldn't have been as much of a problem but it was just all of them at the same time which really hit me