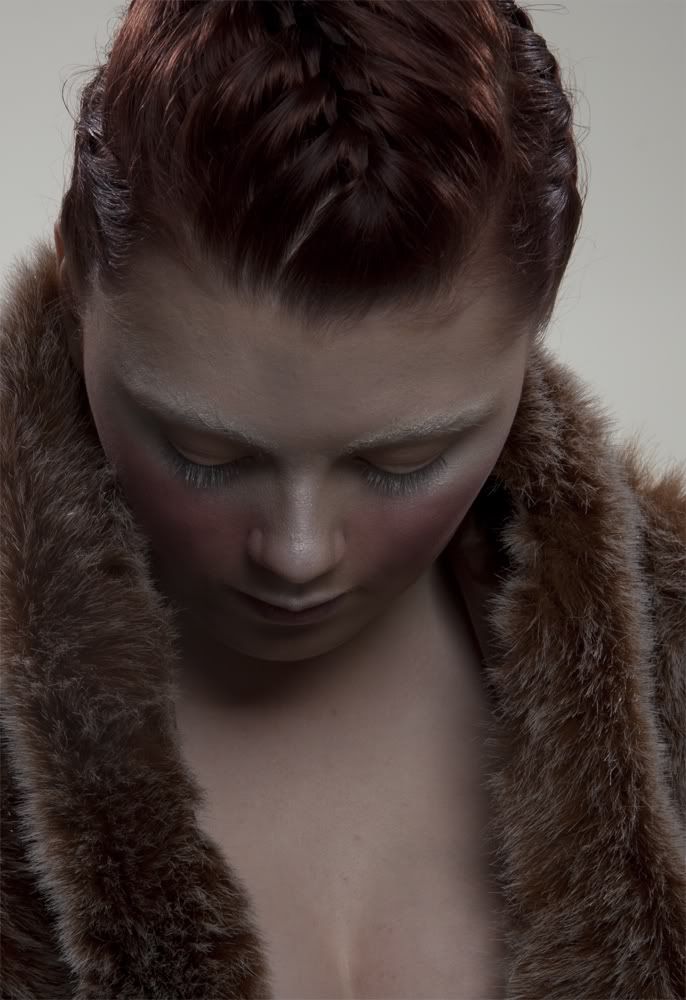 I like the overall style of this shot (and set) in that it's very pensive and quiet. I wish that her hair had a bit more of a texture to it because I like the braids but they've come out a bit flat? The background is a bit TOO 'studio', I would have liked more of a gradient to it

I think the retouching on her cheeks could have done with a bit more finessing because the shadows are a little chunky in places.

Aaaand I love her boobs.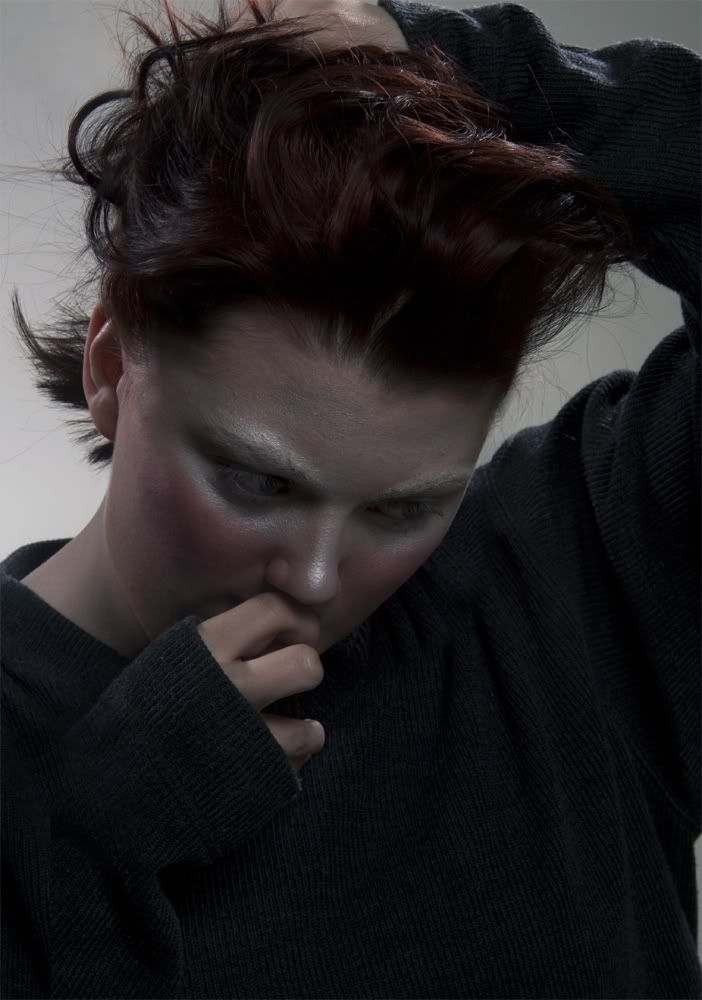 Again, I like the messy hair look but I think if it had a bit of wax or something in it then it would have given it a bit more shape and substance. Again, the background really should have some more depth. I like the posing and how casual and disheveled it is.

I wish I had retouched the makeup a little more, the highlights are a little too sloppy, they could have been really finessed and precise and her eyebrows really could have a lot more of a pop. I also wish that her jaw stood out a little more and that the front light was a little lower so that her eyes weren't in shadow.




I love how severe the highlights are here, but again I wish that the eyebrows were up to the same pace as the nose and lips. It would have been nice if her eyelid was a little shiny also. And I don't know what it is but something about how the light is falling on her hands is unusually appealing to me.

I'm really drawn to her lower lip, it's such a beautiful shape I just wish that her upper one had a little more volume because they look a bit disproportional.

Also I think that not being able to see the background works in the favour of this shot, because it makes it just a little more abstract and stand-alone, not giving it a specific context.




love the profile, love the gradient in the background and again very casual posing and expressions.

I would have liked a catchlight in her eye, just because it looks a bit unfocused. I do like the dreamyness of her gaze but I think it would have pulled it all together just a little bit.

I think she looks really good but again there are a few chunky makeup things I should have cleaned up and the shadow under her eye is a little intense.




my favourite. I'm so obsessed with her expression - so powerful and haunting. A tad cross-eyed but I can look past that - her eyes are such a fantastic shape.

I like that the lighting has a lot of depth to it. Again a bit of a background gradient would have been nice. And totally randomly but I like that a bit of the back light on the right spills subtly onto her eyebrow.

Fun fact: she's actually wearing one of my photoshoot backgrounds but I like that I've arranged it to actually look like an actual piece of clothing. And something editorial and interesting, too!

set thoughts

I really like the cohesive colourscheme. I like that the saturation and contrast aren't totally over the roof but I'd still classify it as "me".

There's a cohesion to the posing and looking down in every shot, but I think I could have been a little more dramatic with her arms just to give the shots even more variance.

It's the cropping that really lets me down the most here - they're all the same 'head and shoulders' thing. Sure, they look good as solo shots but as a whole it's just SO repetitive. And I've found a few different ways to interpret the 'head and shoulders' by going profile and mixing up angles but I need to crop out for a few! Or maybe go even closer in for one?